A pair of suicide bombers attacked two churches in the eastern Pakistani city of Lahore on Sunday as worshippers prayed inside — killing 15 people in the latest assault against religious minorities in this increasingly fractured country, officials said.
A spokesman for the Pakistani Taliban, Ahsanullah Ahsan, claimed responsibility for the assault in a statement emailed to reporters, and warned, "There will be more of such attacks."
Afterward, an angry Christian mob blocked a major highway, ransacked a bus terminal and burned two people to death who they suspected of being involved in the attacks. Christian demonstrators blocked roads in other major Pakistani cities as well.
The explosions occurred in quick succession in the Christian neighborhood of Youhanabad at two churches while parishioners worshipped at Sunday morning services. The churches are about 600 meters (650 yards) apart. At least 70 people were wounded, said Zahid Pervez, the provincial director general of health, who gave the death toll.
Area hospitals filled with casualties and scenes of mourning. Shaheen Bibi's 10-year-old son Abhishak was among those killed.
"My son had gone to the church to pray for a good result in his examinations," Bibi said as she cried and struck her head against the chest of a relative. "He wanted me to sew him some new clothes if he passed his examinations."
Witnesses said the bombers targeted a crowded gate when a large group of worshippers was waiting to enter one of the churches.
Life in Pakistan is increasingly dangerous for religious minorities, especially Christians. They have been targeted by extremist Sunni Muslim militants and are also discriminated against in the wider society, where they are often limited to menial jobs like garbage collection.
Much of the country is already on edge after years of militant violence including an attack on a Peshawar school in December that killed 150 people — mostly students.
The angry crowd attacked two people they thought were connected to the attack, and burned them to death while others attacked buses in the city, said deputy inspector general of police Haider Ashraf. Two police officers who were protecting the churches were also killed in the explosions, which Ashraf confirmed were caused by suicide bombers.
A spokesman for the Punjab provincial government, Zaeem Qadri, also said it was unfortunate that the mob had killed the two suspects rather than turning them over to police. He said authorities are reinforcing security at the 481 remaining churches across the city.
Militants attacks targeting minorities have intensified recently, including attacks on a string of mosques belonging Shiite Muslims, a minority in Pakistan. In 2013, twin blasts at a church in Peshawar killed 85 people.
Prime Minister Nawaz Sharif has his power base in Lahore and his party, the Pakistan Muslim League-N, also runs the Punjab government, where his brother is chief minister. The provincial government has been accused in the past of not doing enough to protect religious minorities and fight extremist groups based in the province.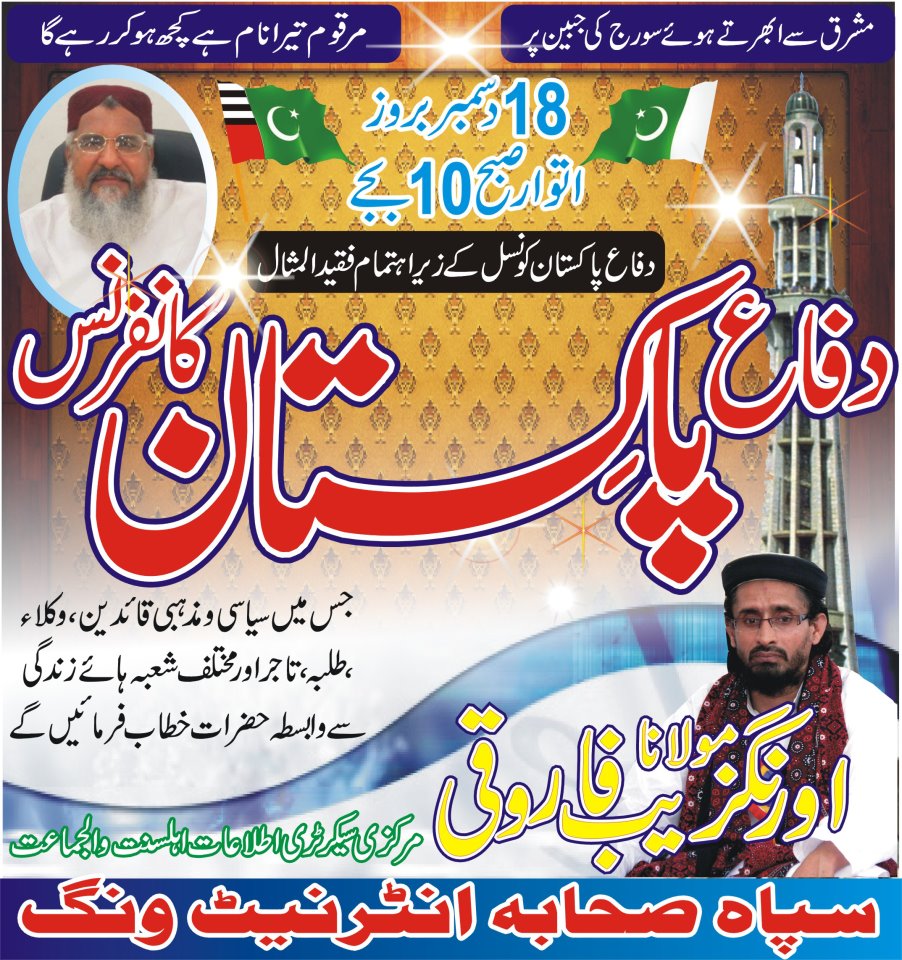 Related posts: Imran Khan's Vice President Ejaz Chaudhry's links with sectarian terrorists!
Imran Khan's message to the Defence of Pakistan rally in Lahore – by Hakim Hazik
Imran Khan says he won't allow any militant group to operate from Pakistan
Imran Khan's Lahore rally offers no hope to Pakistan's religious and ethnic minority groups
Sunday 18 December 2011 will be remembered as an important day in Pakistan's history because Imran Khan's Pakistan Tehrik-e-Insaf (PTI) openly joined two banned terrorist organizations (Lashksar-e-Jhangvi and Lashkar-e-Taiba) in a pro-army rally clandestinely organized by Pakistani spy agency ISI.
For those PTI supportors who are in denial about Imran Khan's links with banned Jihadi groups, please refer to Daily Times, "SECOND EDITORAIL: Hate speech at a bigoted rally"  
On that day, a loose federation of Deobandi-Wahhabi religio-political organizations with known connections with Pakistan's military establishment held a massive Difa-e-Pakistan rally (Defence of Pakistan Conference) to express support for Pakistan army and condemn "evil designs" of India, USA, Hindus, Ahmadis, Shias, Jews and the West in general.
Amongst others the rally was attended by the following radicalized Wahhabi/Salafi and Deobandi Jihado-sectarian groups: Jamiat Ahle-Hadith (Ibtisam Elahi Zaheer – Salafi/Wahhabi), Sipah-e-Sahaba /Lashkar-e-Jhangvi (Muhammad Ahmed Ludhianvi – Deobandi), Jamiat Ulama-e-Islam (Sami-ul-Haq – Deobandi), Jamaat-ud-Dawa/Lashkar-e-Taiba (Hafiz Muhammad Saeed – Salafi/Wahhabi), Jamaat-e-Islami (Liaquat Baloch – Deobandi), Inter Services Intelligence (General Hamid Gul – Salafi/Wahhabi) and Pakistan Tehrik-e-Insasf (Imran Khan – Deobandi).
The conference was engineered by Pakistan Army / ISI in order to to pressurize the NATO and the USA and to mobilize Pakistan's public opinion in support of Pakistan army. However, the conference was able to attract only a section of Deobandi and Wahhabi mullahs and madrassah students. The majority of Pakistan's peaceful moderate Sunnis (Barelvis), Shias, Ahmadis, Christians etc did not participate in the conference.
Overall, the Difa-e-Pakistan Conference was a radicalized Deobandi-Wahhabi show of power on the behest of Pakistan army.
While Imran Khan could not attend the conference in person, his PTI workers participated in the conference and Imran Khan's special message was read out on his behalf to the conference participants right before the Sipah-e-Sahaba leader Muhammad Ahmed Ludhianvi's speech.
Israeli cultural, customs event arranged in Islamic University Islamabad.
ISLAMABAD: A stall showing Israeli culture was arranged at International Islamic University Islamabad; the university administration confirmed that the stall was set up and it has formed a three-member committee to probe into the matter.

The stall for promotion of Israeli culture was arranged in a hall situated in the Faisal Mosque in Islamabad, the capital of Islamic Republic of Pakistan. A ceremony "UN Debate Contest" was also arranged by the Faculty of "Management Sciences Women Department".
Some students, a few of those from other countries, set up the stall where items showing Israel's culture were displayed. Banners in the background also showed the Israeli flag as well as pictures of the Israeli premier.
"WELCOME TO THE LAND OF PEACE AND PROSPERITY," read a banner.
As the news about this stall came to fore, religious bodies, students and political organisations expressed their anger and threatened protest on Sunday (today).
The legal adviser of the University confirmed the presence of stall. The "UN Debate Contest" was also arranged by the Faculty of Management Sciences Women Department where the students set up their stalls of UN member states but the stall of Israel was arranged without permission of university administration, the adviser said.
The stall was closed immediately as it came into the notice of administration.
The local people said that without university administration's permission it was impossible to set up such stall.
Various student organisations and religious parties said the act was tantamount to adding salt to the wounds of Palestinians.
Terror attacks on Shias, Sunni and Christians by ISIS-affiliated Deobandi terrorist groups is to pressure Army to stop military operation and halt executions.
posted by Naseem Chaudhary | March 16, 2015 | In Original Articles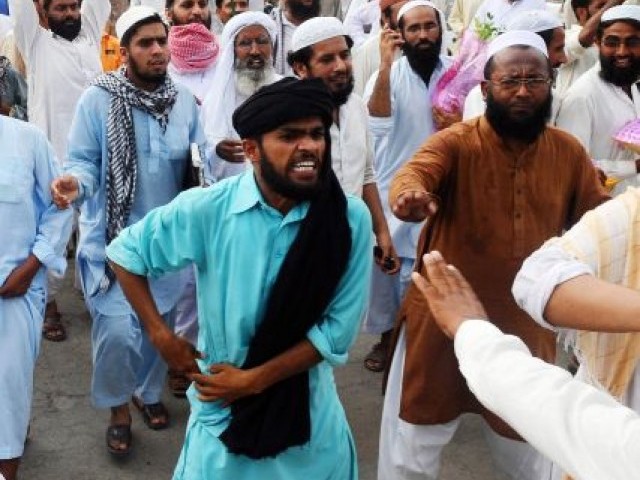 In an earlier statement, the Taliban-apologist and Pro-Al Qaeda PML N government sounded more like an advocate for ISIS-affiliated Deobandi terrorist groups like ASWJ-LeJ when it stated
"The government on Wednesday said the banned Lashkar-e-Jhangvi is involved in the latest wave of sectarian attacks in the country in a bid to pressurise the government to halt executions of their members, BBC Urdu reported on Wednesday.

In a letter addressed to provincial authorities, the interior ministry has said that the LeJ had sought support from al Qaeda in executing reprisal attacks over the execution of its members and crackdown by security forces, but the militant group refused. That prompted the LeJ to turn to Taliban chief Mullah Fazlullah who provided financial support with the promise of further assistance." Source
The massacres of Sunnis, Shias and Christians by ISIS-affiliated and interconnected Deobandi terrorist groups like ASWJ-LeJ/Taliban/Jundullah/Jamaat ul Ahrar have only intensified since 2015. The clear and stated goals of these massacres is to stop the Army action against the Taliban and other Deobandi terror organisations. 
The stated goal is also to stop convicted and boastful terrorists from getting punished for their crimes. Unfortunately, a powerful and influential section of Pakistan's hypocritical "liberal" elites is also echoing the sentiments of these Deobandi terrorist groups. 
There have been four attacks on Shia mosques, two on Christian churches and a prominent anti-Taliban Sunni leader, Mahmood Shah was murdered in Mansehra last month. Hundreds of Sunnis, Shias and Christians have perished in these attacks in 2015 alone.  These attacks have closely followed the massacre of nearly 150 children by the same ISIS-affiilated and interconnected Deobandi terrorist groups on December 16th, 2014. 
The Deobandi madrassa network as well as the Deobandi evangelist groups under Mufti Naeem, Mufti Taqi Usmani, Maulana Tariq Jameel (TJ) Maulana Fazal-ur-Rehman (JUI) , Siraj ul Haq (JI) Qari Hanif Jalandhari (WuM), Tahir Ashrafi (PuC) have all thrown their weight behind ISIS-affiliated Deobandi terrorist groups. 
Pakistan and the world community will never solve this problem until it clearly identifies the specific Deobandi and Salafi ideology that inspires violence and genocide by ISIS/Daesh, ASWJ/LeJ, Taliban, Boko Haram and Al Qaeda.
Specifically, those who are using vague and generic terminology like "Islamist" to obfuscate the specific Deobandi and Salafi roots of transnational terrorism are culpable in obscuring the identity of terrorists.
One major anti-Shia "progressive" muslim obscurantist who deliberately and consistently obfuscates the specific Deobandi and Salafi identity of ASWJ-LeJ/Taliban was part of JUI when they and Jamaat Islami acted in unison with the military dictator General Zia ul Haq in the PNA movement.
ISLAMABAD: Information Minister Pervaiz Rashid has accused Pakistan Tehreek-e-Insaf (PTI) chief Imran Khan of using public money to pursue his political campaigning.
Rashid, while addressing a press conference in Islamabad on Sunday, said the airplane used by Imran for his ongoing political campaign across the country belongs to JWD Sugar Mills.
"JDW is a public limited company and the PTI secretary general Jahangir Tareen only has 29.76% shares in the company," he said. "The other 70.24% shares are owned by other financial institutions and shareholders."
He added that using the aircraft for political motives is an illegal act as per company laws.
"Company laws say any public company limited company cannot give donations to a political party and cannot contribute in monetary terms."
Rashid further said the airplane was bought for company interests but was being used for politics.
"I haven't heard if the majority of shareholders decided to use their airplane for PTI's political campaign," he said. "[JWD Sugar Mills] is supposed to crush sugar, not the economy of Pakistan."
The information minister said such misuse of funds was being carried out by a person who gives lectures the public on integrity and uprightness on a daily basis.
Rashid further said that the PTI chairman paid Rs0.1 million in income tax last year, asking him to justify his 'lavish' lifestyle and traveling expenses in his upcoming speech in Gujranwala.
"What other sources of income do you have?" he asked the PTI chief. "You're traveling on stolen money."
Tags: PMLN's support to ASWJ LeJ Taliban AlQaeda LeT, Shia Genocide & Persecution,Sunni Sufi & Barelvi Genocide, Tarek Fatah.